Oza Field
Highlights
The Oza Field is located onshore in the northern part of Oil Mining License (OML) 11 in Nigeria.
It is a conventional stacked sands reservoir (12 zones) with proven reserves and delineated exploration upside.
There is excellent infrastructure already in place, including export pipeline access tied into the Trans Niger Pipeline (TNP), which flows to the Bonny Export Terminal on OML 11, which is the largest terminal on the African continent and is operated by Shell.
Approximately US$50 million has been previously spent on the Oza Field, including infrastructure, acquisition costs, pipeline, metering system and a production facility.
Overview
The Oza Field is an onshore conventional oil field, on dry terrain, in the northwestern part of Oil Mining Lease (OML) 11, approximately 30 kilometres southwest of Port Harcourt which is part of the Abia State in Nigeria. The field was formerly operated by Shell Petroleum Development Company of Nigeria Ltd. ("Shell"), the local subsidiary of Royal Dutch Shell plc.
The 20 square kilometres concession was carved out of OML 11 in 2003 as part of the Government's Marginal Field Development Program and was awarded to Millenium Oil and Gas Company Limited ("Millenium") having won the bid during the 2003 Marginal Fields Licensing Round. Decklar Resources is developing the field through a Risk Service Agreement (RSA) with Millenium. The Oza Field is surrounded by producing fields operated by Shell, including Isirmi, Obeakpu, Afam, Obigbo and Umuosi.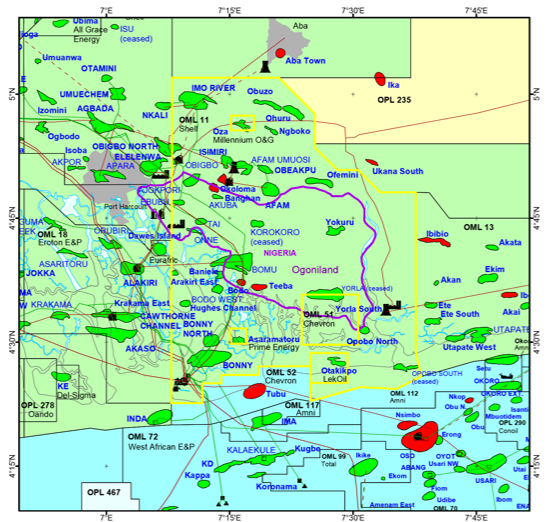 The Oza Field has three wells and one side track drilled by Shell between 1959 and 1974. During the period when Shell was the operator, there were two periods of extended production testing from the Oza-1, -2 & -4 wells. ​Well tests on two wells estimated 2,000 boe/d at 35°/43° API gravity crude oil. More than one million barrels of oil were produced from three zones. The field was never tied into an export facility, nor was it fully developed by Shell and put into commercial production.
Since Millenium's acquisition of the Oza Field, approximately US$50 million has been spent on infrastructure in support of a restart of production including an export pipeline to tie the Oza Field production into the Trans Niger Pipeline (TNP), which goes to the Bonny Export Terminal, a lease automatic custody transfer (LACT) unit fiscal metering system, infield flow-lines, manifolds and a rental 6,000 barrel per day early production facility (EPF).
Development Program
The Oza Field contains multiple zones (up to 12) of conventional stacked sands, allowing for vertical drilling, as well as horizontal development drilling. Field structure analysis has outlined several low-risk appraisal and exploration targets.
Decklar Resources fast-tracked the initial development on the Oza Field including a re-entry on the existing Oza-1 well, which was completed in 2021, testing three oil bearing zones (and one gas bearing), and then place the well into production from one of the three zones tested. Production has since commenced, and crude is being evacuated via trucking and pipeline solutions.
The drilling rig is expected to then be skidded on the same location as Oza-1 to a new drilling slot and a development well will be drilled horizontal into the 3rd zone tested in the Oza-1 well re-entry. This Oza-1 well and new horizontal development well are anticipated to generate significant production levels and cash flow in an abbreviated time frame.
The Oza development is anticipated to then continue with more re-entries on existing wells and additional development drilling with a potential of eight to ten wells being drilled for the full field development.
The Oza Field has significant export and production capacity through processing facilities and infrastructure already in-place and operational, including export pipeline access tied into the Trans Niger Pipeline (TNP), which flows to the Bonny Export Terminal on OML 11, the largest terminal on the African continent and is operated by Shell. Regional infrastructure provides further trucking solutions for crude oil production. This will allow for the immediate export and sale of crude oil from the Oza-1 well re-entry, the initial Oza horizontal development well and future wells.
Additional early production and central processing facilities will be added as required to accommodate additional production levels from field development activities.